Metri-Pack Pull-to-Seat Housings and Terminals for Devices
Metri-Pack pull-to-seat device connections are female housings and terminals which connect directly to specific devices. Pull-to-seat housings have built in seals. 14 amps max. per circuit.
To assemble pull-to-seat the wire is inserted through the back of the housing, out the front, wire is stripped and double crimped on to the terminal. The terminal is pulled back through until it seats in the housing, making a secure connection.
Female Pull-to-Seat Terminals for 150 Series Pull-to-Seat Housings
Wire Size (AWG)
Female Terminals
Pkg. Qty.
22-20
12089290
25
20-18
12103881
25
Cavity Plugs to Fill Unused Circuits, Gray (Pkg. of 25) Part #12065266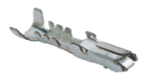 Female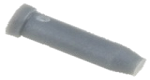 Cavity Plug
Female 150 Series Housings, Pull-to-Seat
No. of
Cavities
Typical Applications
Female
Housings
Pkg.
Qty.
3
A/C Compressor
12065287
5
Female Pull-to-Seat Terminals for 150.2 Series Pull-to-Seat Housings
Wire Size (AWG)
Female Terminals
Pkg. Qty.
22-20
12124076
25
20-18
12124075
25
Cavity Plugs to Fill Unused Circuits, Gray (Pkg. of 25) Part #12065266

Female

Cavity Plug
Female 150.2 Series Housings, Pull-to-Seat
No. of
Cavities
Typical Applications
Female
Housings
Pkg.
Qty.
2
Temperature Sensors
12162193
5
2
Temperature Sensors
12162197
1
2
Throttle Bodies, Injectors
12162215
1
3
Crankshaft Sensors,
Head Lamps
12162182
1
No. of
Cavities
Typical Applications
Female
Housings
Pkg.
Qty.
3
Crankshaft Sensors,
Head Lamps
12162280
1
4
Distributor Modules
12162188
1
5
Sensors, Modules
12162825
1
6
Various Applications
12162210
1
Metri-Pack 150 Series, Unsealed Tools
Part # 12094429

Releases Metri-Pack:

150, 280, and 630
series, 22-10 gauge
150 GT and 280 GT
series, 22-10 gauge

Part # 12094429HD

Releases Metri-Pack:

150, 280, and 630
series, 22-10 gauge
150 GT and 280 GT
series, 22-10 gauge

Features:

Part # 12039500

Crimps Metri-Pack:

150 series, unsealed,
22-16 gauge
150, 150-1,and 150-2
pull to seat series,
22-16 gauge

Features:

Quick single motion
ratcheting tool
Part # 12094430

Releases Metri-Pack:

480, 630, and 800,
series, 20-10 gauge

Releases Weather Pack:

56, 58, and 59
series, 20-10 gauge

Part # 12094430HD

Releases Metri-Pack:

480, 630, and 800,
series, 20-10 gauge

Releases Packard::

56, 58, and 59
series, 20-10 gauge

Features: